2021 Induction Ceremony Cancelled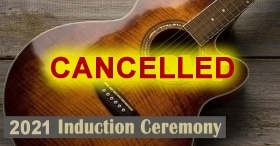 A major event in Nova Scotia's country music community has been added to the long list of concerts, jamborees and festivals being cancelled this year because of the ongoing threat of Covid-19.

It was announced today that the Nova Scotia Country Music Hall of Fame induction ceremony, originally scheduled for September in Truro has been cancelled. "In the interest of public health and given the uncertainty of how long the corona virus threat will continue, the Hall of Fame Executive has decided that it is prudent to forgo the event this year," said Roger Bleasdale, President of the organization. "It is a disappointing and regrettable, but necessary, decision."

Media Contact:
Roger Bleasdale
NSCMHF President: (902) 275-4142 or (902) 499-1918 cell.
Top